Musical Experiences
METATRON MANTRAS ))) Work based on some chanellings of Metatron regarding the use of sounds, to our internal equalization in the current period of Planetary Transition.
FanPage ))) facebook.com/mantrasmetatron
Introduction | Meetings for mantras of the Hebrew tradition to vibration of the DNA Light Codes.
Content | Through the collective singing of this Hebrew mantras given by Archangel Metatron in this channeling of David K. Miller, we can access altered states of our consciousness that allow us to receive information and irradiation of energies we are beneficial.
Benefits | access to the spiritual heart and soul, chakra balancing, serenity and mental clarity.
Target | all ages.
Duration | 2h30
Frequency | Monthly, check out our schedule (we attend to invitations of holistic spaces and related events)
SOUND BATHS WITH SYMPHONIC AND WIND GONGS ))) simplified approach of Meditative Concert, deepening in the cosmic sounds of gongs, which frequencies leads us to the creation of the Universe.
FanPage ))) facebook.com/banhosonoro
Introduction | Meetings of Sound Bath, using Chau Gong and Feng Gong.
.
Content | Through deep and penetrating sounds of these ancient instruments, the audience is bathed by strong and restorative vibrations of these sounds. Lying, all presences dive into this ocean of tones and harmonics effectives in producing a great wellness and relaxation throughout the body.
Benefits | relief from stress and fatigue, body deep relaxation, serenity and mental stillness.
Target public | all ages.
Duration | 1h.
Investment | on demand (we serve private events)
♥
EXPERIENCES OF DEEPENING IN NATURE )))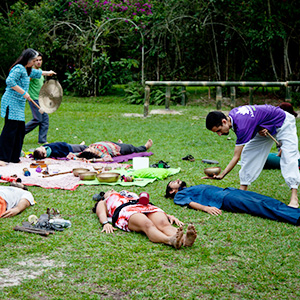 Introduction | Harmonization and integration of the Internal and External Natures: it is increasingly evident the need to strengthen ourselves as focus of expression of Light and occupy public and natural spaces with healthy proposals for social and environmental harmony. Attending to this collective desire, we aim to promote activities immersed in the most healing landscapes of our cities.
Conteúdo | Outdoor musical experiences opened to all interested ones, with the focus on Organic Music, Sound Yoga and Massage Sonora practices. Special meetings to stay tunned together in the green of our forests, practicing in communion with the various tones and timbres that fertilize these soundscapes.
Benefícios | Opportunity to be without judgment and celebrate life, opportunity to interact with the Internal and External Natures through the body, voice, and movement.
Público-alvo | Open to all friends, family and people interested in developing their potential through music.
Locais frequentados | Tijuca Forest, Lage Park, Ruins Park, Arpoador Rock, Gávea Stone, Sites and Ecovillages…
Duração | 2h to 5h.
Valor | R$ 50 (ideal), R$ 35 (cool) ou R$ 20 (supportive). Make contact!