Prem Ramam
CURRICULUM VITAE SDL | click on CV to open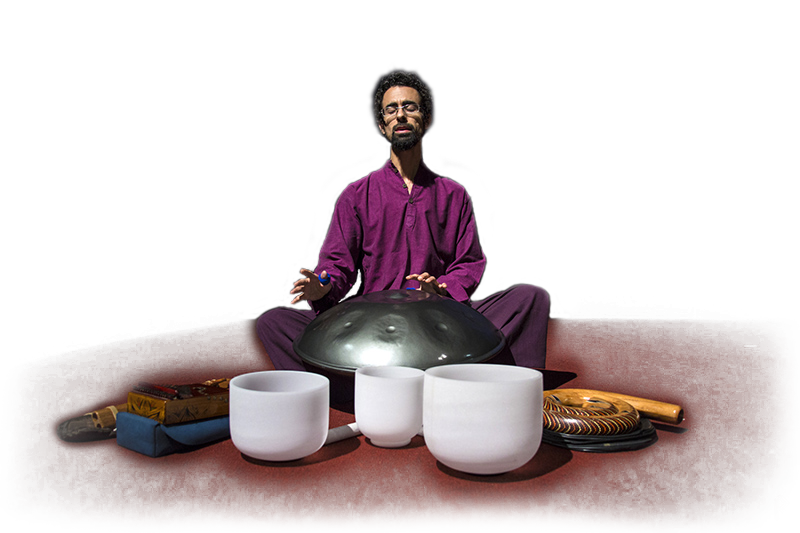 Vegetarian (2001), vegan (2016) and Reiki practitioner (Usui System of Natural Healing) since 2001, he worked as a volunteer for 3 years (2002-2004) at the Social Ambulatory of the Reiki Sem Fronteiras Association, at Grajaú/RJ.
Apprentice of 14ª class in Basic Holistic Formation by UNIPAZ-RJ (International Holistic University). In this University that forms for Life, Raman integrates his artistic Vocation by self empowerment.
Practitioner of Organic Music along with Fernando Neder since 2004. Facilitator of this approach since 2009, with workshops held in Brazil (Rio de Janeiro, São Paulo, Brasília e Salvador), Nepal (Music Department of the University of Kathmandu) and India (Auroville), where he lived for 9 months for his further development in the millennial practices of these cultural traditions.
Autodidact multi-instrumentalist, since 2004 he's been doing research in the fields of ethnomusicology and musical mysticism, using ancient sound practices which strengthen our self-healing capacity and specializing himself as "Sound Therapist" by means of some specific techniques of singing and playing in ethnic instruments.
In 2010, he created his own approach of this therapeutics, SOM DA LUZ – Harmony and Development through Music, where he explores these paths and studies, which since 2005 can be viewed in his first blog http://premramam.blogspot.com.br (formerly danielcaixao.multiply.com).
Formation in the 4 degrees of Sound Massage with Tibetan Singing Bowls by the Peter Hess Method with Ingrid Ortelbach, certified by the Peter Hess Institut from Germany (2010).
In the field of Education, he took part in the 5th International Holistic Education Conference – Pedagooogia 3000 with Noemi Paymal, in December, 2009 at Auroville/Índia. In 2011, he organized this itinerant event at his city, at the 6th International Holistic Education Conference, frOM 8th to 17th July, 2011. Check out the lectures in our YouTube channel: www.youtube.com/user/pedagooogia3000rio!
In the field of Sustainability, he held some workshops about the subject at Auroville, highlighting an experience of 2 days with one of the great enthusiasts of Deep Ecology, John Seed (2009). He also took part in the Social Module of formation in Sustainability Design of the Gaia Education (2010).
Between 2011~12 Ramam deepens his experience with the 1st Training of Facilitators of Organic Music, with Ricardo Oliveira (creator of this genuinely Brazilian approach), Fernando Neder and Paul de Tarso, with deep immersions of cocreatiOMs in nature and in the city.
Since this Raman has been offering concerts, consultations and classes in Rio de Janeiro, where he lives, and in various parts of the country when invited, as well as a catalyst agent, co-creating with soul brothers exquisite projects of awareness expansion through music as the Canta com Amor (2013) and Ilumina Rio Rio (2014) Movements, and your devotional music trio NadaBhaktas (2014).